CELEBRATE PASSOVER!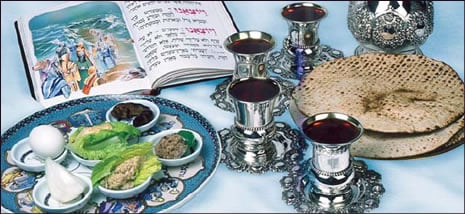 SCROLL DOWN FOR:
* Pesach Seder
* Matzah & Wine
* Sale of Chametz
* Passover Supersite
Chabad Jewish Center
Invites you to a
PESACH SEDER
All are welcome – regardless of
background or affiliation
1st Seder, Wednesday Evening
April 8, 8:30 pm
At Chabad Jewish Center
8707 W. State St.
Boise, ID 83714
Admission
Adult - $25  *  Child - $18
Family - $90  *  Sponsor - $180
No one will be turned away due to lack of funds!
 Advance Reservation Required
Call:  208-853-9200
Email: CHABAD 

To arrange family hospitality for the second seder please call 853-9200.
got matzah?
Call the Chabad Jewish Center for your Passover needs.
We have Shmurah Matzah and a wide selection of Kosher Wines.
208-853-9200 or e-mail.
Pasover Schedule
Click here for our online calendar.
YIZKOR Memorial Services for the deceased will be held on Thursday, April 16 at the Chabad Jewish Center at approximately 11:45 AM (Morning Services begin at 10:00 AM).
 
SALE OF CHAMETZ
Click here for more information about selling your chametz and an online Sale of Chametz form.
Click here to download a PDF Sale of Chametz Form, which can be faxed to our office at 208-853-9201.
Please note that we will not accept Sale of Chametz contracts after 5:00 PM on April 6, 2009.
FEAST OF MOSHIACH
Thursday, April 16 at 7:30 PM
At the home of Rabbi & Mrs. Lifshitz, 6114 N Cape Arago Pl, Boise, ID 83714.
No charge.
Celebrate the culmination of the Exodus from Egypt and prepare for the coming of Moshiach, the eight day.
Matzah, wine, stories & song!
VISIT OUR PASSOVER SUPERSITE
for all you want to know about Pesach!